Blaine's Ninetales
Katsura's Kyukon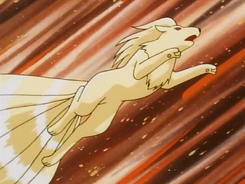 Blaine's Ninetails is a Pokémon owned by Blaine.
BiographyEdit
Main article: Blaine#Pokémon
Blaine owned a Ninetales in Yellow and in Black 2 & White 2 games. It debuted in Pokémon Yellow, being at Lv. 48 and knowing Confuse Ray, Tail Whip, Flamethrower and Quick Attack.
Blaine's Ninetails was used during his first battle with Ash. Ninetails was extremely powerful, defeating Ash's Squirtle with a single Fire Spin.
Known movesEdit