Ben is the male character from Pokemon Ranger: Guardian Signs.
AppearanceEdit
PersonalityEdit
BiographyEdit
Side GamesEdit
Guardian SignsEdit
He travels with player throughout the storyline if he choose Summer as your character, and his partner is a Staraptor. If player chooses to be Ben in Guardian Signs, he gets obtain Latios's sign. Ben is the counterpart of the female player Summer.
Main SeriesEdit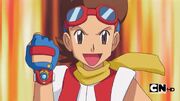 The second time he appeared in the anime, Ash, Brock and Dawn helped Ben rescue Heatran.
Side GamesEdit
Guardian SignsEdit
Main SeriesEdit
Used via Capture StylerEdit
Pokémon
Information

This section is blank. You can improve the Pokémon Wiki by editing this template.

Heatran
Pokémon
Information

This section is blank. You can improve the Pokémon Wiki by editing this template.

Pidgeot
Used via Ranger SignEdit
Pokémon
Information

This section is blank. You can improve the Pokémon Wiki by editing this template.

Feraligatr
Side SeriesEdit
Used via Capture StylerEdit
Pokémon
Information

This section is blank. You can improve the Pokémon Wiki by editing this template.

Staraptor
Pokémon
Information

This section is blank. You can improve the Pokémon Wiki by editing this template.

Pichu
Pokémon
Information

This section is blank. You can improve the Pokémon Wiki by editing this template.

Cranidos