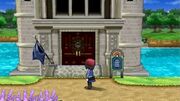 The Battle Chateau, one of the battling facilities in Kalos, is a mansion situated on top of a river on Kalos Route 7.
Rankings
Baron/Baroness
Viscount/Viscountess
Earl/Countess
Marquis/Marchioness
Duke/Duchess
Grand Duke/Grand Duchess
Features
The Battle Chateau features rematch battles against gym leaders you have previously defeated.
Calem/Serena is greeted by Viola, who talks one of the servants of the Battle Chateau into giving them a beginner's noblity rank. Battling other nobles who show up (either on their own or because of Writ being sent out to invite them for battles), Calem/Serena can raise his/her rank through countless battles.
In the anime
The Battle Chateau appeared in Breaking Titles at the Chateau!.
Gallery
Ad blocker interference detected!
Wikia is a free-to-use site that makes money from advertising. We have a modified experience for viewers using ad blockers

Wikia is not accessible if you've made further modifications. Remove the custom ad blocker rule(s) and the page will load as expected.