Barry's Hitmonlee
Jun's Sawamurā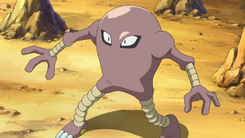 Barry's Hitmonlee is a fighting-type Pokémon owned by Barry.
BiographyEdit
It was used in Barry's battle with Paul, where it was shown to be fast and strong. However, in its battle against Paul's Ursaring it burned Ursaring with Blaze Kick, activating its Guts ability. Due to Ursaring's increased attack power, Hitmonlee was overwhelmed and fainted.
Known movesEdit
This article is missing an image.
Please help the Pokémon Wiki by adding one.
Voice actorsEdit