Azure's Drowzee
アツキのスリープ Atsuki's Suriipu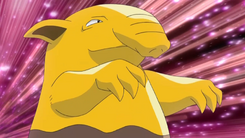 This Drowzee is a psychic-type Pokémon owned by Azure.
Biography
Azure used his Drowzee to participate in the fake Pokémon Hustle event that Team Rocket organized. After stealing the Poké Balls, Drowzee was sent out to protect Azure from Team Rocket's Meowth who attempted to recover the 'stolen' Pokémon. Crimson's Zangoose's X-Scissor quickly defeated Meowth but stalled Crimson and Azure long enough for Officer Jenny and Ash Ketchum to intercept them. Officer Jenny's Growlithe was easily able to defeat Azure's Drowzee.
Known moves
Gallery
Ad blocker interference detected!
Wikia is a free-to-use site that makes money from advertising. We have a modified experience for viewers using ad blockers

Wikia is not accessible if you've made further modifications. Remove the custom ad blocker rule(s) and the page will load as expected.