For an overview of similar named pages, see Ash Ketchum (disambiguation).
A trainer from Pallet Town, aspiring to become a Pokémon Master, Ash Ketchum is a main character of the Pokémon Anime.
Appearance
In the Advanced Generations series, Ash appeared with new clothing - a black and red hat with a green Poké Ball on it, a blue sleeveless hoodie, a black short-sleeve undershirt, black gloves, new jeans and sneakers.
Personality
This section is completely EMPTY!
Please help the Pokémon Wiki by expanding it.
Biography
Season 6: Advanced
Starting a new journey, Ash received new clothes from his mom, trading his familiar button-up shirt for a sleeveless hoodie, his green gloves for black ones and got a new cap. Breaking with what he'd done previously when he left for Johto, Ash left the rest of his team with Professor Oak and Tracey, intent on capturing new Pokemon in Hoenn, taking only Pikachu, his Starter, with him from home - the idea being to recapture the feeling of first leaving Pallet Town as a new Trainer. Upon arrival, he gained two new traveling companions in May, a beginner Trainer starting out on her journey with no clue what to do, and her younger brother Max, who has an extensive, impressive knowledge of Pokémon that far exceeds his years. Brock also returned, having finished his errands at home. Ash won his first three badges by the end of the season: the Stone Badge from Roxanne of the Rustboro Gym, the Knuckle Badge from a rematch with Brawly from the Dewford Gym, and the Dynamo Badge from Wattson of the Mauville Gym. He also caught three Pokémon: Taillow, Treecko and Corphish.
Season 7: Advanced Challenge
Ash was eager to challenge more Gyms but was held up by May as she decided to be a Pokémon Coordinator. Ash encountered both Team Magma and Team Aqua, two villainous crime syndicates occupying the Hoenn region for the first time. Ash also won the Heat Badge from Flannery, the Balance Badge from Norman, May and Max's father, and a Feather Badge from Winona. Ash's Pokémon team changed a bit. He caught a Torkoal while his Treecko and Taillow evolves into Grovyle and Swellow.
Season 8: Advanced Battle
Before winning his last few badges, Ash was caught in a clash between Teams Magma and Aqua as they unleashed the legendary Pokémon Groudon and Kyogre to reshape the world. Due to Pikachu's connection with Groudon, both teams were stopped and the legendary Pokémon returned to rest. After that, Ash beat the twin Gym Leaders Tate and Liza for the Mind Badge and Grand Festival winner Juan for the Rain Badge. Prior to entering the Hoenn League, Ash declined an offer from Professor Oak to trade in his current Pokémon with his previous captures on the grounds that his new team had earned it for themselves. He gained two new rivals in Morrison and Tyson, the former he would beat, but the latter he would lose to. He placed among the Top 8. He caught a Snorunt, which later evolves into Glalie.
Returning to Kanto with Brock, May and Max, Ash was invited to partake in the Battle Frontier, battling Frontier Brains for Frontier Symbols. Upon encountering the first Frontier Brain, Factory Head Noland and his Articuno, Ash left his friends for a quick bit while the Factory Head took Max and Pikachu up in his airplane, telling them "I had to make a phone call." Later that night as the gang was watching Noland's Pokémon eat dinner, they speculated which of Noland's Pokémon Ash would challenge: Max guessed Venusaur, May guessed Rhyhorn, but Ash, aiming high, boldly decided on Articuno. Wondering which of Ash's Pokémon he would use against a Legendary, the gang was excited when they saw his pick; Ash had gone straight to the top and brought in the big guns, calling in Charizard from the Charicific Valley to take on the Ice/Flying-type head-to-head. Despite the Type advantage being set against it, Noland's Articuno demonstrated its ability to quickly recover after taking direct hits from Charizard's Flamethrower and DragonBreath attacks and managed to gain an advantage over the fiery behemoth with an Ice Beam to the wingtip and repeatedly combining its Ice Beam and Water Pulse attacks, the latter move being strong enough to counter Charizard's newest move: Overheat. Ultimately though, Charizard managed to withstand Articuno's Steel Wing attack, and as the Legendary Bird came in for one last strike, it grabbed its wings in midair, stopping the attack before it could connect and topped it off with its signature Seismic Toss, knocking out Articuno for the win and earning Ash the Knowledge Symbol.
Season 9: Battle Frontier
Ash battled all of the remaining Frontier Brains, Arena Tycoon Greta, Dome Ace Tucker, Pike Queen Lucy, Palace Maven Spenser and Salon Maiden Anabel, and earned their Frontier Symbols. The last Frontier Brain however, Pyramid King Brandon, proved to be more difficult for Ash to defeat; Their first official battle saw Brandon's Registeel defeating Ash's Torkoal in spite of a new move it learned. For their rematch, which would be four-on-four, Ash took a "back to your roots" approach, once again calling in Charizard but also this time bringing in Bulbasaur and Squirtle to reunite his trio of Kanto Starters. Putting them together with Pikachu, Ash formed a team of aces from his early days: pitting the four aces against Brandon's Dusclops, Ninjask, Solrock and Regice, he finally claimed victory and the final Frontier Symbol - the Brave Symbol - completing the set and winning the Battle Frontier. After his victory, Scott offered Ash the position of Frontier Brain when one of them retired but he declined, opting instead to continue his journey. Before saying goodbye to May, Ash competed against her in the Terratta Pokemon Contest, their match ending in a tie. There was only one ribbon and they couldn't decide who to give it to. Ash had his Sceptile use Leaf Blade to cut the ribbon in half, choosing to split it with May before they all parted ways. Returning home, Ash met up with Gary again and saw the latter's new Electivire. Gary informed Ash about the region of Sinnoh, to which he immediately decided to travel next on his journey. He manages to catch an Aipom.
Pokémon
In rotation
Pokémon
Information

Ash was given Pikachu by Professor Oak as the original Kanto starter Pokemon had been taken. Originally, Pikachu would not listen to Ash and constantly shocked him. However, after accidentally angering a flock of Spearow, Pikachu had a change of heart when he saw Ash defend him. Since then, Pikachu has assisted and been very successful in many of Ash's wins and over time has adopted Ash's mannerisms. Pikachu does not want to be in his Poké Ball so he stays out all the time, often riding on Ash's shoulder or head.
Pikachu

♂
Pokémon
Information

After evolving during a Pokémon Ring Contest, Swellow has partaken in many of Ash's battles in Gyms and Leagues and has got a good amount of wins under his wing. Swellow was left at Oak's Lab when Ash left for his journey to Sinnoh. But Ash used Swellow, one more time, in the Sinnoh League.
Taillow → Swellow
Pokémon
Information

After evolving from Grovyle to defend its love interest, it lost all ability to use attacks due to a broken heart caused by rejection. Eventually regaining the ability to use the attacks, Sceptile became a vital powerhouse in Ash's team which can hold his own against legendary Pokémon including Deoxys, Regirock, and Darkrai. Despite being one of Ash's best-trained Pokémon, Ash decided to leave Sceptile at Oak's Lab while he travelled to Sinnoh. Sceptile was used again to defeat a Darkrai in the Sinnoh Pokémon League.
Treecko → Grovyle → Sceptile
Pokémon
Information

Corphish was captured while terrorizing Dewford Island and its inhabitants. However once it was caught, Corphish managed to tame its terrorizing attitude and become a vitally used member of Ash's team. However whenever one of Ash's Pokémon evolves or gets a bit more attention, Corphish does get the tendency to get a bit jealous. After its adventure with Ash through Hoenn and the Battle Frontier, Corphish was left at Oak's Lab.
Corphish
Pokémon
Information

Torkoal was found under attack by a bunch of Steel Pokémon in the valley. When Ash arrived to rescue it, it ran off but eventually followed Ash's instructions and defeated the Steel Pokémon. It is an emotional Pokémon which has been known to burst into tears when happy. Torkoal hasn't been in many Gym battles but is used in standard battles on many occasions and proves its strength in those battles. After the Hoenn League, Ash decided to give it some time off at Oak's Laboratory.
Torkoal
Pokémon
Information

After evolving from Snorunt, Glalie was used when Ash entered the Hoenn League. Convinced of its power Ash used it in a number of battles where it managed to hold its own successfully. After the league was over he decided to give it a break at Oak's Laboratory.
Snorunt → Glalie
Pokémon
Information

After rejoining Ash's team as a Phanpy, it evolved to help free Pikachu from Team Rocket. However even after the evolution, it kept its playful personality from being a Phanpy which sometimes can cause mayhem with other younger Pokémon. Ever since it evolved, it has become a powerhouse in Ash's team winning many Frontier Battles. It now resides back in Oak's Lab during Ash's journey to Sinnoh.
Phanpy → Donphan
Pokémon
Information

Aipom followed Ash after meeting him on the road. Aipom showed affection by stealing Ash's hat. Seeing the Contests, Aipom wanted to compete and battled Ash's Pikachu, then was caught by Ash himself.
Aipom

♀
In storage
Pokémon
Information

Bulbasaur was the third Pokémon Ash caught. It had been protecting a village of Pokémon that were recovering from illnesses. Since then it became a vital part of Ash's team and won many gym and league battles for Ash. Bulbasaur has been given the choice to evolve but decided to stay at its base form. Long into its journey with Ash, Bulbasaur was called upon to stop feuds between the Pokémon in Oak's Lab and has continued to do so. It also appears to have a budding romance with May's Bulbasaur.
Bulbasaur
Pokémon
Information

When he was in the Safari Zone, Ash managed to capture thirty Tauros, all of which reside at Oak's Laboratory. However Ash has used one of the Tauros on several occasions in Leagues and Frontier battles.
Tauros

♂
Pokémon
Information

Captured in the Orange Islands when stealing all the grapefruit from a small Island range, Snorlax has become a major powerhouse of Ash's, when it is awake that is. Due to its massive feeding requirements, Ash felt it better to stay at Professor Oak's, however it is still used for a number of Gym, League & Frontier battles. Also, Snorlax had defeated a Medicham, even at a Fighting dis-advantage.
Snorlax
Pokémon
Information

Ash and Brock once saved a Charmander from death, and after saving it from its incompetent trainer, Brock decided that Ash should remain with it. Then, after evolving from Charmeleon, Charizard didn't obey any orders that Ash gave and quite often used his Flamethrower attack on Ash, (it still does this today, but now it does it as a sign of affection towards Ash rather than a sign of disobedience.) However, after getting frozen in battle, Charizard started to respect Ash as he nursed it back to health. Since then, it has been a vital powerhouse in Ash's team and has been used in several Gym, League and Frontier battles and has even held its own in battles against Entei and Articuno. It currently resides at Prof. Oak's Lab in Kanto.
Charizard
Pokémon
Information

It was Ash's seventh Pokémon in Kanto. Evolving in its first ever battle in the Indigo League, Kingler is a good strong Pokémon that Ash has fallen back on in both the Indigo and Johto leagues. However it has not seen much experience outside of those leagues.
Kingler
Pokémon
Information

Captured after taking over a Power Plant, Muk was immediately sent to Professor Oak's Laboratory. While being there it grew incredibly affectionate and is known to hug Professor Oak on many occasions. However, past this affectionate yet slimy exterior, Muk has been used in several League battles and manages to hold its ground. As a running gag, Muk often knocks over Professor Oak when he's talking with Ash over the video-phone.
Muk
Pokémon
Information

Heracross was the first Pokémon that Ash captured in Johto. It loves tree sap and has been known to suck the pollen out of Bulbasaur's Bulb on several occasions causing Bulbasaur to get annoyed. It is a powerful Pokémon of Ash's team and has been used in several Gym, League, Frontier battles and even the Sinnoh Pokémon League.
Heracross
Pokémon
Information

After evolving from Chikorita, Bayleef kept her longing feelings for Ash which did end up getting her in trouble on several occasions. However after getting used to her size, she managed to become a vital part of Ash's team and helped win many Gym & League battles. Ash left her at Oak's when he decided to make a fresh start when he left for Hoenn.
Bayleef

♀
Pokémon
Information

While training for the Sinnoh League, Ash brought his Cyndaquil with many of his other Pokémon. However, Team Rocket tried to cause problems and Cyndaquil evolved in order to stop them. Quilava has numerous powerful attacks such as Flame Wheel at his disposal, showing that it has completely overcome his previous hindrances in its base form and is sure to be a powerful Pokémon within Ash's team.
Cyndaquil
Pokémon
Information

Totodile was captured by Ash using his Lure Ball. Since Misty also wanted it, they decided to battle in order to determine whose it was. Ash won. Totodile has a quirky personality and really likes to dance. It has even been known to use this dancing tactic to help win battles. Ash left it at Oak's Lab when he decided to make a fresh start when he left for Hoenn.
Totodile
Pokémon
Information

Noctowl is an incredibly rare Pokémon of Ash. It is a Shiny Pokémon which glitters as it comes out of its Poké Ball into battle. Due to its psychic abilities, he has been used many times to find and battle Ghost Pokémon as well as the usual flying requirements that Ash utilizes. Ash left it at Oak's Lab when he decided to make a fresh start when he left for Hoenn.
Noctowl
In training
Pokémon
Information

When Squirtle first appeared, it was part of the Squirtle Squad, a terrorizing group of Squirtle that were causing havoc around Vermillion City. However after gaining respect for Ash, it joined his team and has since become an incredibly competent battler. It has won many Gym and League matches but ha returned to the Squirtle Squad to lead after the team started falling apart.
Squirtle
Temporary
Pokémon
Information

Ash temporarily commanded a Flygon in order to help protect Jirachi from an evil mutation of Groudon created by Butler.
Flygon
Pokémon
Information

Team Rocket took Lombre, thinking it was Mawile. Ash used Lombre to battle them, since Brock was absent.
Lombre
Pokémon
Information

When the group got separated from their Pokémon, Brock sent out his Mudkip to help Ash look for them.
Mudkip
Pokémon
Information

Ash borrowed Hitmonlee from Master Hamm to battle May with Hitmonchan after Master Hamm was having problems.
Hitmonlee

♂
Befriended
Pokémon
Information

Ash befriended Lucario after releasing him from Sir Aaron's staff due to having the same Aura as its master. Although they didn't get along at first, Lucario teamed up with Ash in a desperate search for Pikachu at the Tree of Beginning. When the tree was beginning to fall apart, Ash and Lucario transferred their Aura to Mew. But just as Ash is about to use up all of his Aura, Lucario pushed Ash to safety as he doesn't want Ash to die. Before Lucario dies, he saw how Sir Aaron truly cared about it and how he was willing to sacrifice everything to save the land from the war, even if he had to seal Lucario in his staff.
Lucario

♂
Pokémon
Information

Ash befriended Mew at the Tree of Beginning after it told the tree that Ash and his friends are not a threat. But Mew's request made it gravely ill and the tree began to fall apart. Ash and Lucario risked their lives to use their Aura and save the tree and Mew was successfully recovered.
Mew
Achievements
Hoenn League
Symbols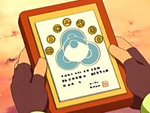 Ad blocker interference detected!
Wikia is a free-to-use site that makes money from advertising. We have a modified experience for viewers using ad blockers

Wikia is not accessible if you've made further modifications. Remove the custom ad blocker rule(s) and the page will load as expected.