This article is about the TCG card. For the Pokémon species, go here.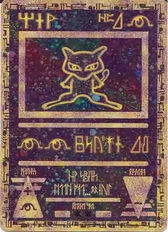 Ancient Mew is a Psychic-type Basic Pokémon card. It was released as a promotional card in the year 2000. This card's text is depicted in medieval Futhark Runic and Gothenburg Runic writing; this page uses their English equivalents.
Attacks
THIS MEW CARD HAS A HIDDEN POKEMON CARD IN THE MIDDLE OF IT!!! IF U SEPERATE THE FRONT OF THE CARD FROM THE BACK U WILL FIND AN ANCIENT GIRATINA!!! (MUST DO!!!)
R/W
It is weak to Psychic x2. It's Retreat Cost is 2 energies.
Trivia