Ad blocker interference detected!
Wikia is a free-to-use site that makes money from advertising. We have a modified experience for viewers using ad blockers

Wikia is not accessible if you've made further modifications. Remove the custom ad blocker rule(s) and the page will load as expected.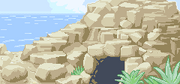 The Altering Cave (Japanese: へんげのどうくつ Altering Cave) is a cave found in the Sevii Islands and Hoenn.
In Pokémon FireRed and LeafGreen, in the Sevii Islands, the cave is found on Outcast Island. In Pokémon Emerald, in the Hoenn region, it is found on Route 103. However, unlike in in FireRed and LeafGreen, the cave appears only after the player makes it to the Hall of Fame. Also, the interior of the Altering Cave in Emerald differs from the one in FireRed and LeadGreen.
For normal circumstances only Zubat are found in the cave, but by receiving a Mystery Gift through the "Wonder Spot" event sponsored by Nintendo, the area of Pokémon will be altered. However, the event was never hailed so the event only Pokémon could never be found here. The event only Pokémon included: Mareep, Aipom, Pineco, Shuckle, Teddiursa, Houndour, Stantler and Smeargle.
Pokémon
Wild Pokémon
Walking
Pokémon
Games
Location
Level
Rate
Zubat
FR/LG/E
Cave
6-16
100%
Walking
Wild Pokémon
Unreleased event Pokémon
Wild Pokémon
Walking
Pokémon
Games
Location
Level
Rate
Mareep
FR/LG/E
Cave
3-13
100%
Houndour
FR/LG/E
Cave
12-20
100%
Pineco
FR/LG/E
Cave
13-26
100%
Aipom
FR/LG/E
Cave
18-28
100%
Shuckle
FR/LG/E
Cave
18-28
100%
Teddiursa
FR/LG/E
Cave
18-28
100%
Stantler
FR/LG/E
Cave
18-28
100%
Smeagle
FR/LG/E
Cave
18-28
100%
Walking
Wild Pokémon
Gallery