Alexa's Gogoat
Pansy's Gōgōto
General
Trainer:
Alexa (Kalos)
Ability:
Sap Sipper (Not Yet Actvated)
Debut:
BW136: The Journalist from Another Region!
Episode captured:
BW140: Go, Go Gogoat!
Details
Evolves In:
Prior to BW140
Alexa's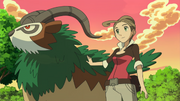 Gogoat
is a Pokémon that debuted in
The Journalist from Another Region!
. She uses it not only for transportation but also to carry her things. It was also the first Pokémon she caught as revealed in
Go, Go Gogoat!
.
Personality
As Alexa is often forgetful about which bag she puts things in, Gogoat has to remind her which specific bag she put something in.
Known Moves