This article needs the latest image.
Reason: "Gen V image in use".
Acid Spray
Contest Data
Contest Spectaculars (
ORAS
)
Type:
Appeal:
1

♥

Jam:
1

♥
Acid Spray (Japanese: アシッドボム Acid Bomb) is a Poison-type move introduced in Generation V.
In Battle
Edit
The user spits out a liquid to melt the opponent. It inflicts damage and lowers the target's Sp. Def by 2.
By Leveling Up
Edit
Pokédex
Pokémon
Sprite
type
Level
#023
Ekans
28
#024
Arbok
32
#072
Tentacool
26
#073
Tentacruel
26
#316
Gulpin
34
#317
Swalot
38
#434
Stunky
32
#435
Skuntank
32
#568
Trubbish
12
#569
Garbodor
12
#603
Eelektrik
49
#617
Accelgor
-

4

* Bold indicates a Pokémon which receives STAB from this move
By Breeding
Edit
By Leveling Up
Edit
By Breeding
Edit
Acid Spray depicted in the anime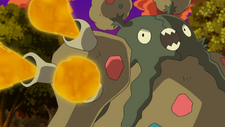 Garbodor using Acid Spray