| | | |
| --- | --- | --- |
| | | LV. |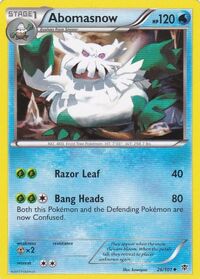 General Information
Hit Points
50
Height
{{{height}}}
Weight
298.7 lbs. (133.5 kg)
Battle Data
Weakness

Resistance
None
Retreat cost

Abomasnow (ユキノオー Yukinooo) is a Water-Pokémon and also the twenty-fifth out of 105 cards that is part of the Black & White: Plasma Blast. It is a Water-type Pokémon card and also a first-stage pokémon. The card image has been illustrated by kawayoo.
Gallery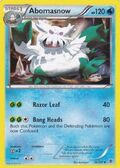 Plasma Blast print
Megaro Cannon print
Razor Leaf


はっぱカッター

, Happa kattā
40
Bang Heads


ごっつんヘッド

, Go ttsun heddo
80
Both this Pokémon and the Defending Pokémon are now Confused.
PokéDex Entry
Pokédex
English
They appear when the snow flowers bloom. When the petals fall, they retreat to places unknown again.
Japanese

ゆきのはなが さくころ どこからか すがたを あらわし はながちると また どこかに すがたを かくす。

Translation

It appears when snow falls. After it melts, where they hide is a mystery.
Trivia
Razor Leaf is an attack that Abomasnow can learn at Level 1 (Prior to Generation V)
Its Pokédex Entry comes from Platinum, Black and White, and Black 2 and White 2.
Ad blocker interference detected!
Wikia is a free-to-use site that makes money from advertising. We have a modified experience for viewers using ad blockers

Wikia is not accessible if you've made further modifications. Remove the custom ad blocker rule(s) and the page will load as expected.