"
"We did it Sandshrew! We finally reached Victory # 100!"
"

–A.J.
A.J. (アキラ Akira) is a Pokémon Trainer who makes his first appearance in The Path to the Pokémon League.
Biography
Games
Pokémon Yellow
A.J. appears as a Youngster on Route 9. The only Pokémon he uses is a Lavel 24 Sandshrew that knows the moves: Scratch, Slash, Sand Attack, and Fissure. After Red defeats him he states "I'll restart my 100-win streak with Sandshrew!".
Anime
Season 1: Indigo League
After coming across his gym, Ash decided to battle A.J., who has never lost a battle, despite the gym not being official. During Ash's first try in the gym, A.J. comes out victorious. Team Rocket appears and takes A.J.'s Sandshrew, mistaking it for Ash's Pikachu. A.J. later got his Sandshrew back. After the defeat of Ash and Team Rocket, A.J. has past his previous number of ninety-eight victories and hit one hundred. With one hundred victories under his belt, A.J. and his Sandshrew travel the Kanto region to challenge the Gyms.
Season 2: Adventures in the Orange Islands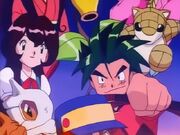 A.J. appeared in the opening scene of "Adventures in the Orange Islands" season, but did not appear in any of the episodes.
Pokémon
Pokémon Yellow
Anime
On hand
Pokémon
Information

Sandshrew is A.J.'s first Pokémon. Through strict training, A.J.'s Sandshrew has become powerful enough to defeat 100 opponents. After doing so, A.J. left to take on Kanto gyms.
Sandshrew
Pokémon
Information

Butterfree is one of A.J.'s Pokémon that was seen training at his gym. it was later used to battle one of Ash's Pokémon.
Butterfree
Pokémon
Information

Beedrill is one of A.J.'s Pokémon that was seen training at his gym. it was later used to battle one of Ash's Pokémon.
Beedrill
Pokémon
Information

Rattata is one of A.J.'s Pokémon that was seen training at his gym. it was later used to battle one of Ash's Pokémon.
Rattata
Cares for
Episode appearances